After Hours Conversations 2011-2012
October - November 2011 ; February - March 2012
---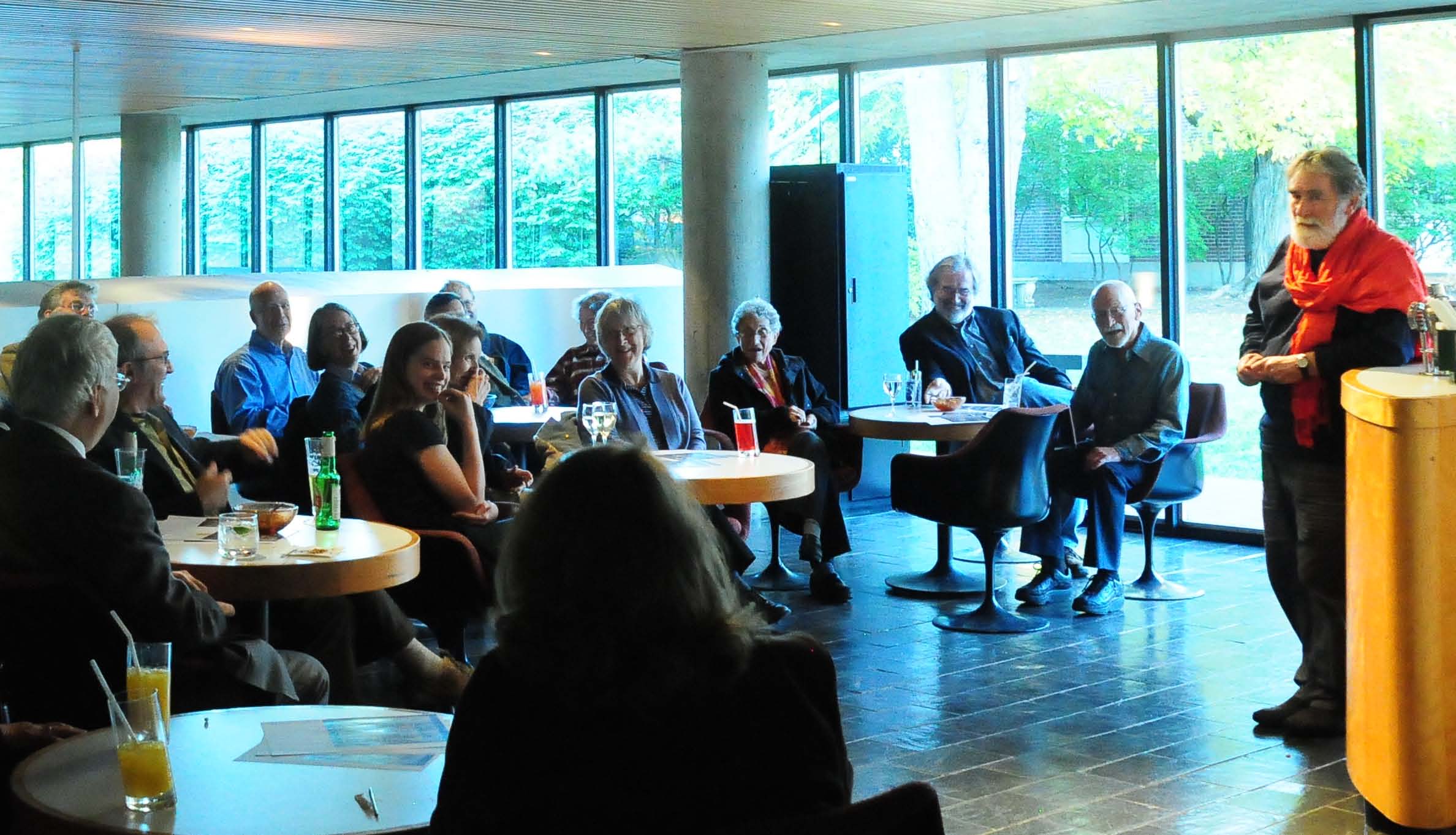 After Hours Conversations is a program of informal meetings that are held at Harry's Bar in the upper level of Simons Hall, from 5:00 pm till 7:00 pm, on Mondays and Thursdays, in October and November and again in February and March. The sessions will be moderated by Piet Hut, Program in Interdisciplinary Studies; Nicola Di Cosmo, School of Historical Studies; Didier Fassin, School of Social Science; and Helmut Hofer, School of Mathematics.
The format is as follows. At 5:30 pm, someone will give an informal presentation of no more than 10 minutes, intended for a general audience. The topic will be a brief description of a major open problem in his or her field, together with suggestions for possible future progress with respect to that problem. This talk will be followed by 20 minutes of discussion, until 6:00 pm. During the remaining hour, everyone is free to mingle in more general discussions, preferably with others not from their own School.
If anyone would like to volunteer for giving a talk, please send an email to Piet Hut (piet@ias.edu), Nicola Di Cosmo (ndc@ias.edu), Didier Fassin (dfassin@ias.edu), or Helmut Hofer (hofer@ias.edu).
To receive announcements of upcoming talks by email, contact Dawn Dunbar (ddunbar@ias.edu).
Note that in Harry's Bar all beverages including bottled water must be purchased with an IAS card. If you would like to purchase a drink, it would be best to arrive around 5:15, to allow the line at the bar to be processed before the start of the talk. Thank you for your cooperation.
Here is the list of speakers for the 10-minute presentations:
First Semester
Monday, October 3, 2011
TALK START TIME (this day only) - 6:00 pm
Presentation by: Jochen Bruening, School of Mathematics
Title: The Scientist as a Stamp Collector
Host: Helmut Hofer
Thursday, October 6, 2011
TALK START TIME (from this day onward) - 5:30 pm
Presentation by: Didier Fassin, School of Social Science
Title: Public (Dis)order. Are Police the Solution - or the Problem?
Host: Piet Hut
Monday, October 10, 2011
Presentation by: Ashvin Chhabra, Chief Investment Officer of IAS
Title:Staying Solvent in an Insolvent World
Host: Piet Hut
Thursday, October 13, 2011
Presentation by: Aristotle Socrates, School of Natural Sciences
Title: Six Months Ago, a Super-Massive Black Hole Swallowed a Star: It was Very Bright
Host: Piet Hut
Monday, October 17, 2011
Presentation by: Avi Wigderson, School of Mathematics
Title: What if P=NP?
Host: Helmut Hofer
Thursday, October 20, 2011
Presentation by: Charles Sanft, School of Historical Studies
Title: Using Game Theory to Think About Chinese Characters
Host: Nicola Di Cosmo
Monday, October 24, 2011
Presentation by: Eugene Kontorovich, School of Social Science
Title: From Pirates to Pinochet and Back: The Quest for International Justice
Host: Didier Fassin
Thursday, October 27, 2011
Presentation by: Marjorie Woods, School of Historical Studies
Title: Hard Feelings: Manufactured Emotions and Creativity in the Classroom
Host: Nicola Di Cosmo
Monday, October 31, 2011
[ no meeting this day; Halloween ]
Thursday, November 3, 2011
Presentation by: Gil Renberg, School of Historical Studies
Title: The Scientist as Sorcerer? The Curious Case of Apuleius of Madaura
Host: Nicola Di Cosmo
Monday, November 7, 2011
Presentation by: Eric Maskin, School of Social Science
Title: Did Economists Fail to Predict the Financial Crisis?
Host: Helmut Hofer
Thursday, November 10, 2011
Presentation by: Will Farr, Program in Interdisciplinary Studies
Title: The New Era of Gravitational Wave Astronomy
Host: Piet Hut
Monday, November 14, 2011
Presentation by: Elke Markert, School of Natural Sciences
Title: To Treat or Not to Treat: Dilemmas in Prostate Cancer
Host: Piet Hut
Thursday, November 17, 2011
Presentation by: Subhankar Banerjee, Director's Visitor
Title: From Kolkata to Kaktovik: A Journey from Tropic to the Arctic
Host: Piet Hut
Monday, November 21, 2011
Presentation by: Jonathan Caverley, School of Social Science
Title: Who Pays for Wars in a Democracy?
Host: Didier Fassin
Thursday, November 24, 2011
[ no meeting this day; IAS is closed for the Thanksgiving holiday ]
Monday, November 28, 2011
Presentation by: Nancy Scheper-Hughes, School of Social Science
Title: Why Transplant Trafficking is a Protected Crime
Host: Didier Fassin
Thursday, December 1, 2011
Presentation by: Alexei Vazquez, School of Natural Sciences
Title: The War on Cancer: The Genomic Era
Host: Helmut Hofer
Second Semester
Monday, January 30, 2012
Presentation by: Boaz Katz, School of Natural Sciences
Title: What Does Special Relativity Mean?
Host: Piet Hut
Thursday, February 2, 2012
Presentation by: Stanislas Leibler, School of Natural Sciences
Title: Is Biology a 'Narrative Science'?
Host: Piet Hut
Monday, February 6, 2012
Presentation by: Michael van Walt van Praag, School of Historical Studies
Title: Unfulfilled Promises: The Failure of the International Legal and Institutional System to Ensure Peace Agreement Implementation
Host: Nicola Di Cosmo
Thursday, February 9, 2012
Presentation by: Celeste Arrington, School of Social Science
Title: Victimhood: When Political Weakness Becomes a Strength
Host: Didier Fassin
Monday, February 13, 2012
Presentation by: Philip Ording, Program in Interdisciplinary Studies
Title: What is Mathematical Style?
Host: Piet Hut
Thursday, February 16, 2012
Presentation by: Jérémie Barthas, School of Historical Studies
Title: A Machiavellian Slip: Tenuto/Temuto in The Prince
Host: Nicola Di Cosmo
Monday, February 20, 2012
[ no meeting this day; IAS is closed for President's Day]
Thursday, February 23, 2012
Presentation by: Steven Lukes, School of Social Science
Title: How to Think About Power
Host: Didier Fassin
Monday, February 27, 2012
Presentation by: David Spiegel, School of Natural Sciences
Title: Life on Other Planets
Host: Piet Hut
Thursday, March 1, 2012
Presentation by: James Doyle, School of Social Science
Title: Ancient and Modern Ideas of Virtue
Host: Didier Fassin
Monday, March 5, 2012
Presentation by: Jessica Sewell, School of Social Science
Title: How Do Objects Make Men?
Host: Didier Fassin
Thursday, March 8, 2012
Presentation by: Peter Goddard, Director, Institute for Advanced Study
Title: Weights Off My Mind: Challenges Facing the IAS
Host: Piet Hut
Monday, March 12, 2012
Presentation by: Elizabeth Bernstein, School of Social Science
Title: Ethnography and Policy: The Case of Prostitution
Host: Didier Fassin
Thursday, March 15, 2012
Presentation by: Mina Teicher, School of Mathematics
Title: Math and Beauty - the Other Direction
Host: Piet Hut
Monday, March 19, 2012
Presentation by: Adele Reinhartz, School of Historical Studies
Title: The Oberammergau Passion Play 2010: A Jewish Perspective
Host: Nicola Di Cosmo
Thursday, March 22, 2012
Presentation by: W. Anthony Sheppard, School of Historical Studies
Title: Operatic Oppenheimer and Orientalism
Host: Nicola Di Cosmo
Monday, March 26, 2012
Presentation by: Michel Reymond, Chef, Dining Services
Title: Food for Brains
Host: Helmut Hofer
Thursday, March 29, 2012
Presentation by: David Zuckerman, School of Mathematics
Title: Purifying Randomness: How and Why
Host: Helmut Hofer