After Hours Conversations 2012-2013
October - November 2012 ; February - March 2013
---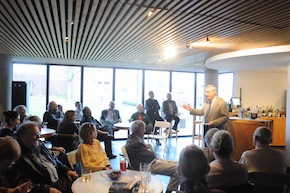 After Hours Conversations is a program of informal meetings that are held at Harry's Bar in the upper level of Simons Hall, from 5:00 pm till 7:00 pm, on Mondays and Thursdays, in October and November and again in February and March (here are some quotations).
These talks are open to faculty, members, visitors, staff, spouses, and partners in an effort to encourage cross-discipline communication at IAS. The sessions will be moderated by Piet Hut, Program in Interdisciplinary Studies; Didier Fassin, School of Social Science; Patrick Geary, School of Historical Studies; and Helmut Hofer, School of Mathematics.
The format is as follows. At 5:30 pm, someone will give an informal presentation of no more than 10 minutes, intended for a general audience. The topic will be a brief description of a major open problem in his or her field, together with suggestions for possible future progress with respect to that problem. This talk will be followed by 20 minutes of discussion, until 6:00 pm. During the remaining hour, everyone is free to mingle in more general discussions, preferably with others not from their own School.
If anyone would like to volunteer for giving a talk, please send an email to Piet Hut (piet@ias.edu), Didier Fassin (dfassin@ias.edu), Patrick Geary (geary@ias.edu), or Helmut Hofer (hofer@ias.edu).
To receive announcements of upcoming talks by email, contact Dawn Dunbar (ddunbar@ias.edu).
Note that in Harry's Bar all beverages including bottled water must be purchased with an IAS card. If you would like to purchase a drink, it would be best to arrive around 5:15, to allow the line at the bar to be processed before the start of the talk. Thank you for your cooperation.
Here is the list of speakers for the 10-minute presentations:
First Semester
Monday, October 1, 2012
Presentation by: Patrick Geary, School of Historical Studies
Title: Can Genetic History Avoid Essentializing the Past?
Host: Piet Hut
Thursday, October 4, 2012
Presentation by: Jos de Mul, Program in Interdisciplinary Studies
Title: The (Bio)Technological Sublime: From Nature to Technology and Back
Host: Piet Hut
Monday, October 8, 2012
Presentation by: Hanno Rein, School of Natural Sciences
Title: 819 Planets and Counting
Host: Piet Hut
Thursday, October 11, 2012
Presentation by: Deva Woodly, School of Social Science
Title: Reviving Rhetoric: Aristotelian Discourse and Contemporary Campaigns
Host: Didier Fassin
Monday, October 15, 2012
Presentation by: Nathan Seiberg, School of Natural Sciences
Title: What Do We Learn from the Recent Observation of a Higgs-like Particle?"
Host: Helmut Hofer
Thursday, October 18, 2012
Presentation by: Mark Driscoll, School of Historical Studies
Title: White Dude's Burden: Instances of Imperial Whateverism from Bush to Niall Ferguson to Romney
Host: Patrick Geary
Monday, October 22, 2012
Presentation by: Helmut Heit, School of Historical Studies
Title: There Are No Facts, Only Interpretations - Nietzsche on Science
Host: Patrick Geary
Thursday, October 25, 2012
[ cancelled due to scheduling conflict with another IAS event ]
Monday, October 29, 2012
[ due to Hurricane Sandy, postponed until November 12 ]
Thursday, November 1, 2012
[ cancelled due to Hurricane Sandy ]
Monday, November 5, 2012
[ due to Hurricane Sandy, postponed until November 26 ]
Thursday, November 8, 2012
Presentation by: Michael Lesnick, School of Mathematics
Title: The Shape of Data
Host: Helmut Hofer
Monday, November 12, 2012
Presentation by: Jenny Jim, Program in Interdisciplinary Studies
Title: The Interpretation of Brains: Applying Clinical Psychology in the Rehabilitation of Brain-injured Children
Host: Piet Hut
Thursday, November 15, 2012
Presentation by: Mark Goresky, School of Mathematics
Title: The Development of Spread Spectrum Communications
Host: Helmut Hofer
Monday, November 19, 2012
Presentation by: Juan Maldacena, School of Natural Sciences
Title: What Happens When You Fall Into a Black Hole?
Host: Piet Hut
Thursday, November 22, 2012
[ no meeting this day; IAS is closed for the Thanksgiving holiday ]
Monday, November 26, 2012
Presentation by: Venkataraman Bhaskar, School of Social Science
Title: Marriage Market Imbalances and the Position of Women
Host: Didier Fassin
Thursday, November 29, 2012
Presentation by: Lucas Bessire, School of Social Science
Title: The Many Lives of Geronimo (and Other Ex-Primitives)
Host: Didier Fassin
Second Semester
Monday, February 4, 2013
Presentation by: Robbert Dijkgraaf, Director, Institute for Advanced Study
Title: Is Scientific Fraud on the Rise?
Host: Piet Hut
Thursday, February 7, 2013
Presentation by: Nigel Smith, School of Historical Studies
Title: The Utility of Literary Studies
Host: Patrick Geary
Monday, February 11, 2013
Presentation by: Angelos Chaniotis, School of Historical Studies
Title: Ancient Greece After Sunset: Perceptions, Histories, and History of the Night
Host: Patrick Geary
Thursday, February 14, 2013
Presentation by: Vladimir Voevodsky, School of Mathematics
Title: What Do We Call "Foundations of Mathematics"?
Host: Piet Hut
Monday, February 18, 2013
[ no meeting this day; IAS is closed for President's Day]
Thursday, February 21, 2013
Presentation by: Sara de Freitas, Program in Interdisciplinary Studies
Title: The Future of Learning in Computer Generated Environments
Host: Piet Hut
Monday, February 25, 2013
Presentation by: Chen-Pang Yeang, School of Historical Studies
Title: Probing the Sky with Radio Waves: From Wireless Technology to the Development of Atmospheric Science
Host: Patrick Geary
Thursday, February 28, 2013
Presentation by: Laurence Ralph, School of Social Science
Title: You Never Hear About the Wheelchair: What Urban Youth Have to Say About Our Guns
Host: Didier Fassin
Monday, March 4, 2013
Presentation by: Jan-Werner Muller, School of Historical Studies
Title: Can Religion and Democracy Really be Reconciled?
Host: Patrick Geary
Thursday, March 7, 2013
Presentation by: Derek Bermel, Artist-in-Residence
Title: Music, Mathematics, & Morphemes: Collaborations in Sound, Word, and Number
Host: Helmut Hofer
Monday, March 11, 2013
Presentation by: Charles Hartman, School of Historical Studies
Title: Does the News Influence Your Research? China Then and Now
Host: Patrick Geary
Thursday, March 14, 2013
Presentation by: David Eng, School of Social Science
Title: The Psychic Economy of Transnational Adoption
Host: Didier Fassin
Monday, March 18, 2013
Presentation by: Ortal-Paz Saar, School of Historical Studies
Title: Angels, Demons and Religious Encounters: The Babylonian Incantation Bowls
Host: Patrick Geary
Thursday, March 21, 2013
Presentation by: Hyun Ok Park, Program in Interdisciplinary Studies
Title: "History as Repetition": A Subversive Politics
Host: Piet Hut
Monday, March 25, 2013
Presentation by: James Harris, School of Historical Studies
Title: The Liberalism of Fear Revisited
Host: Patrick Geary
Thursday, March 28, 2013
Presentation by: Marco Battaglini, School of Social Science
Title: The Political Economy of Public Debt
Host: Didier Fassin