How to install the Activities Center Printer
If you have experience with connecting to network printers, use the information below. If you would like step-by-step instructions, please scroll down the page for installation instructions for Windows, Linux and Mac OS X.
Printer Model
:
HP LaserJet 400 M401dne
Location
:
Near the Laundry Room in the Activities Center in the Housing Complex
Features
:
Black and White printing only
Duplex (double-sided printing)
1st Tray: Multipurpose
2nd Tray: 500 sheets - Letter size
3rd Tray: 500 sheets - Letter size
Hostname
:
printer.resnet.ias.edu
Printer Protocols
:
IPP, LPD, 9100
Printer Languages
:
PostScript Level 3
PCL6, PCL5e, PCL5
Memory
:
96MB
Windows Instructions
1.

Open Printers by clicking the Start button , clicking Control Panel, clicking Hardware and Sound, and then clicking Printers.

2.

Click Add a printer.

3.

In the Add Printer Wizard, select Add a network, wireless or Bluetooth printer .

4.

Your computer will begin searching for printers in the area. Click the printer that I want isn't listed.

5.

Select Add a printer using a TCP/IP address or hostname and click Next.

6.

Type "printer.resnet.ias.edu" in the hostname field and click Next.

7.

Your computer will contact the printer, try to figure out what it is and pick a suitable driver. Following the instructions until you get to the Type a printer name dialog box.

8.

Type "Housing Printer" in the Printer name field.
If you want the printer as your default printer, click the box by Set as the default printer.
Click Next.

Your computer will install the printer and give your the option of printing a test page.
Click Finish when you are done. Your machine should now be able to print to the Housing Printer.
Linux Instructions
Instructions
1.

Navigate to your printer installation tool.

2.

Choose the option to add a New printer.

3.

In the Printer Configuration wizard, select New.

4.

The relevant settings are:

Print server name: printhost.math.ias.edu.
Simplex queue name: h1
Duplex queue name: h1d

You may use the generic postscript driver if you do not find the HP Laserjet 400 print driver installed. Select Generic as the manufacturer and PostScript Printer as the queue type.
Mac OS X Instructions
Instructions
1. Open the Mozilla Firefox or Safari web browser and enter: ipp://printhost.math.ias.edu/printers/h1 for single-sided printing or ipp://printhost.math.ias.edu/printers/h1d for double-sided printing. [NOTE: This procedure does not work with the Google Chrome web browser.]
2. A launch application dialog will appear, make sure to have "AddPrinter" highlighted before clicking "Open link"
3. An add a printer prompt will appear, click "Continue" to add the printer.
4. A new printer named printhost.math.ias.edu will have been added to your list of printers.
5. Once added, right-click the newly added printer named printhost.math.ias.edu and click "Rename printer...". (You may have to click the lock in the lower left corner to make any changes).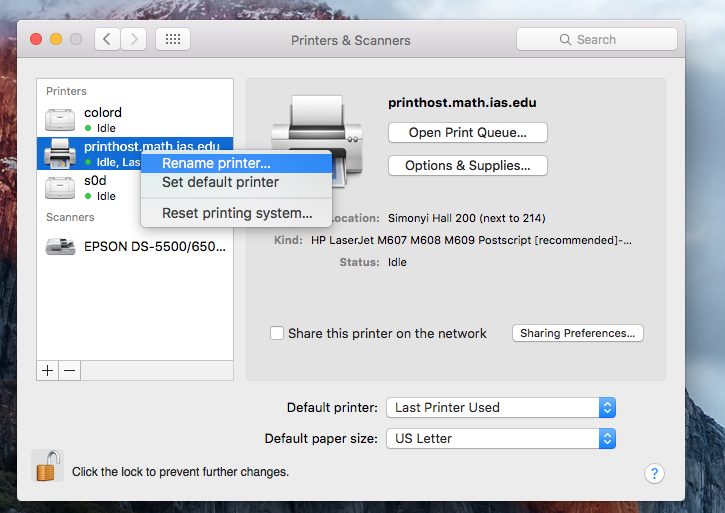 6. Use the <printer name> you specified earlier.
Printer Drivers for different Operating Systems
If you wish to use the printer driver specific to your OS and it is not installed on your system, you may be able to download them from the HP web site. It is beyond the scope of this document to instruct on installing the printer drivers.