How to navigate around the Zimbra Desktop client user interface
When you open ITG Zimbra Desktop client, you see a full screen view similar to the one shown below: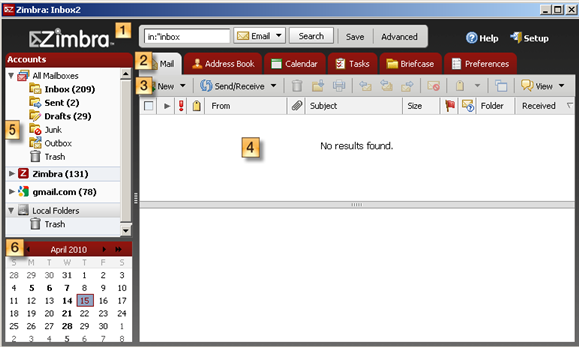 The Zimbra Desktop main page includes the following areas:
Search Bar Row - The Search and Advanced Search are displayed in this area. The account Setup and Help links are on the right.
Application Tabs - The applications that you can access are listed in the tabs at the top.
Toolbar - Shows actions available for the application you are currently using. In this example, the Mail application toolbar is displayed.
Content Pane - The content of this area changes depending on what application is in use. In the Inbox view, it displays all messages or conversations in your Inbox. In the screen on this page, the Reading Pane is the area below the messages in your Inbox. When you click on an email message, the message displays in a reading pane below the messages list. To adjust the size of the Reading Pane, click then drag the divider bar up or down. By default, viewing messages in the Reading Pane is on. You can move the reading pane to the left or turn the Reading Pane off from the toolbar View link.
Overview Pane - Displays your different accounts. Each account name is displayed. This example shows the All Mailboxes layout. All messages from each of your accounts for Inbox, Sent, and Drafts are combined under this section. This preference can be set from the Preferences > General page.

Each account includes the following folders:

Folders, including the system folders Inbox, Sent, Drafts, Junk, and Trash, as well as any custom folders you may have created
Searches you may have saved
Tags you created
Zimlet links that may have been created to integrate with third-party applications from within your mailbox.

Mini-calendar - This can be displayed below the Overview pane. Displaying the mini-calendar is optional and can be enabled in Preferences > Calendar page.
To learn more about the ITG Zimbra Desktop client user interface, please browse through the Navigating the ITG Zimbra Desktop guide.
If you are not able to find the information you are looking for, please contact the ITG Help Desk at extension 8044 or helpdesk@ias.edu.